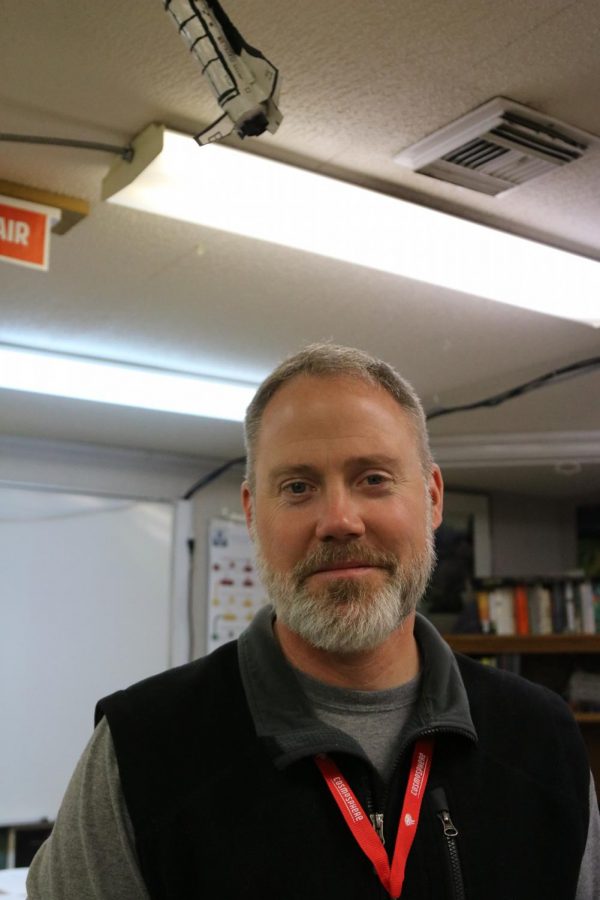 Bryan's Bristles
The true story behind Mr. Bryan's beard
January 27, 2020
One new thing students may have noticed upon their return to school from winter break is the beard faculty member Christopher Bryan is sporting. One might assume that this beard was simply a new year's resolution or chosen on a whim; however, its origin is much more complicated. 
The story begins after finals, when Bryan was repairing a fish tank in his classroom after an unfortunate iPhone-related explosion and subsequent electrical fire. Because it was winter break, all the buildings on the campus were locked, but Bryan had the master key to access them. However, an untimely gust of wind and a poorly placed laminator machine caused Bryan to be locked in his classroom without the keys. "The first thing I did was reach for my phone, which wasn't there because I had dropped it in the fish tank," says Bryan. That was the moment Bryan realized he was trapped inside. "My first reaction? I'm gonna have to science the [expletive] out of this."
Luckily, Bryan was locked inside one of the few classrooms in the school that contains useful items for survival. His first move was to find a source of food, since it appeared he would be trapped inside for the foreseeable future. Conveniently, Bryan was able to survive off of the fish fragments that littered the classroom. "They weren't the tastiest, but they got the job done," says Bryan. He spent his free hours reciting the litany to himself to keep his sanity, as well as making video logs of himself which detailed his daily tasks of survival. 
"After a week of surviving off of fish fragments, I ran out, and there was no way I was eating any of that stuff in those jars of formaldehyde, so I had to find a way out." Going MacGyver style, Bryan constructed a drilling machine and tunneled through the floor of his classroom. 
When he exited his bore-hole, Bryan was surprised to find himself in faculty member James Larocca's classroom, where Larocca was living during the break. "I was relieved to see him, but also a little scared," Bryan says. "I definitely had some questions for him." As it turns out, Larocca was living inside the school over break on his own volition after staying after finals to grade papers. "He just let me out. Apparently the main building doors were unlocked," says Bryan. And thus ended Mr. Bryan's survival saga. At this point, his beard had grown out, and he decided to keep it that way.