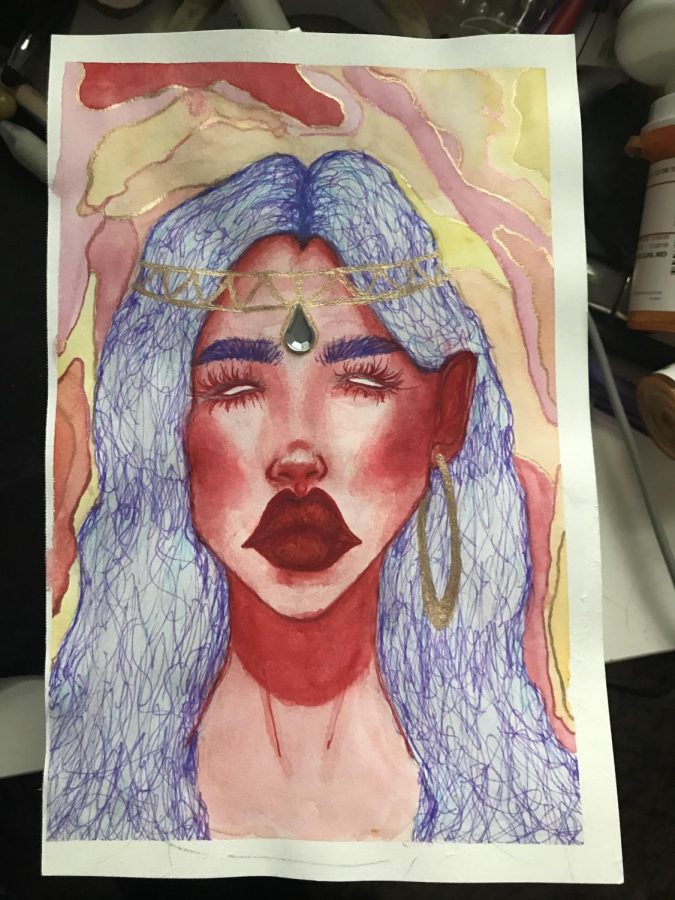 Artists' Portfolio
Artists share their art with the world
January 27, 2020
Graphic Design! Pottery! Drawing! There are many different forms of art, and many of those art forms are represented by students here at Seabury. Among us are artists who take their expertise outside of school and into the real world, making public art, showing and selling their art at galleries and donating the art to charity. 
Take, for example, sophomore Jude Black. He was recently granted a 1000 dollar grant from the Lawrence Public Library to create a piece of art for East Lawrence. His plan? Create a collage of a phoenix from plastic waste. Black was traveling when he got the idea: "Recently there was an exhibit [at the Shedd Aquarium in Chicago], an art installation in and around the grounds. It was 3D sculptures made out of marine trash. It was called "Washed Ashore," and that was what really inspired me. I also decided to do the phoenix because it's the symbol of Lawrence. If you've ever looked at the city seal, it's a phoenix rising out of the burnout ruins of the Eldridge, symbolizing the city's reconstruction after Quantrill's Raid." And although Black is not a traditional drawing artist, he still does other types of art: "I've never been much of a conventional artist. I've never been great at drawing. My freehand drawing is abysmal, and my non-cursive handwriting is mediocre. But, what I've been good at is 3D rendering, so clay, sculptures and other non-drawing things. I've always liked collages, and this seemed pretty fun, so that's why I did it." East Lawrence is often overlooked when it comes to developments as well, making Black's work crucial: "East Lawrence is the lower class neighborhood of Lawrence. It's where historically, African Americans, working-class people and other racial minorities . . . lived. And so it doesn't have the same amenities Downtown and West Lawrence have." Although Black doesn't know when the art piece will be unveiled, it's sure to be interesting. 
Another student who sells their art is junior Yada Suthithavil, who participates in a program called stARTup, which is run through the Lawrence Art Center. What exactly is stARTup? "It's an art program for high school students," says Suthithavil, "for people who are interested in having a career in art. they will teach you basic things that you need in the art field, like how to make an art website, how to price things, and then by the end of May, students will get to have their own art shows." Lawrence has a lot of art shows, several galleries and a community built around art. Suthithavil does have a show coming up: "There's a group show on January 31st at Edward Jones. We have a common theme, which is a color theme, which is orange, red, and purple. We have to create a piece of art for that idea. I have a painting that will be displayed at that art show." Of course, stARTup is not the only way that she does her art. She also does independent commissions: "I've done commissions before. I accept portrait drawings and I make comics for school books and stuff." If you want a portrait for a loved one or your dog, contact her!
Finally, who could forget the annual Christmas Tree Auction? Every year, two seniors get the opportunity to create a tree to be auctioned off to the highest bidder at the auction. The proceeds are donated to charity. This year, seniors Siena Casagrande and Sabrina Eicher created a tree called "Lit From Within," which was created by wrapping lights not around the branches, like usual, but around the trunk and base of the tree. "We came up with this idea by brainstorming together over the summer," says Casagrande, "and using a concept Mrs. Porter came up with as a jumping-off point." Casagrande enjoyed the project: "I really enjoyed helping with the tree and seeing our vision come to fruition. But it was especially meaningful to know that we were creating something that would give back to our community."
These artists are truly spectacular in every way. We are lucky to have them here and glad that their art graces our halls and community.