Marie Brockhoff
January 21, 2020 • No Comments
As the conclusion to a fantastic season, Seabury's debate team traveled to Fort Scott, Kansas for the State tournament. The 4-speaker debate team, consisting of sophomore Ryan Dekat and freshmen Martin Hill, Jason Meschke and...
Middle schoolers render the school spellbound
January 15, 2020
The school gathered on Wednesday, January 15th for the annual spelling bee....
Debate competes at Lawrence High
December 8, 2019
On December 7th, the Debate team traveled a great distance to Lawrence High....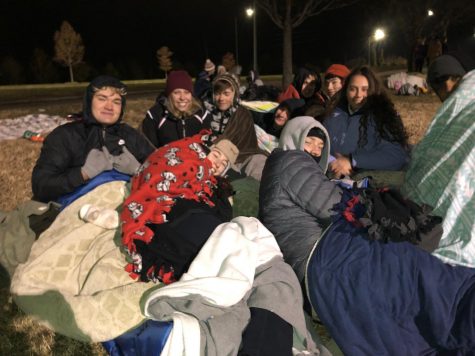 November 21, 2019
Every year, Seabury students brave the cold weather and spend a night outside...
Katie Eckert
January 24, 2020
At the LHS swim meet Thursday night, Ian Blake competed and represented Seabury's high school swim team amongst the big local teams such as Lawrence High and Freestate. He won...
Catharine Richards
January 22, 2020
Yesterday the middle school boys' basketball A team took on Christ Preparatory School at home. Unfortunately the Seahawks lost 18-47. The boys play again on Friday at home against...
Jonah Kim
January 22, 2020
Middle school girls basketball had a game against Christ prep on Tuesday and took a beating 0-49. They lost by a large margin, but are still chugging along in the season
Varsity Boys compete at Baldwin Tournament
January 22, 2020
The high school boys basketball team defeated Baldwin...
Varsity Girls compete at McLouth Tourney
January 22, 2020
The varsity girls played a tough game against Jefferson...
Varsity Boys win against Veritas
January 19, 2020
The Bishop Seabury boys' basketball team defeated...

Loading ...
November 21, 2019
November 21, 2019
November 21, 2019