Spotlight: Zeb Brinson
Katie Eckert
October 2, 2019
You walk into the gym for morning meeting and find a crowd of people scattered across the gym playing sports of all kinds: soccer, baseball, volleyball and basketball. Standing among them every morning and break is one who can do it all. His name? Zeb Brinson.
Brinson is a new sixth grader who came from Century School. As you can probably tell, he really likes to spend most of his time playing sports. Soccer, his most frequent morning and break time game, is only one of the sports he enjoys. "I play soccer, basketball, baseball, and sometimes flag football," he says. Brinson is also currently playing on the middle school boys' soccer team.
It is obvious from his constant participation that he really loves to play soccer, and he has been playing since before he can remember. "I've been playing since I was little. I can't even remember the age." One might wonder how he spends so much of his time on sports. Why does he do it? The answer is simple:
"It keeps me active and stuff." Despite his love for sports, they are not the only thing that Brinson is interested in. His love for games also extends to video games, and he really enjoys some of his classes, like English and histography. "We do a lot of fun things in there," he says.
His favorite classes so far are English and history, because he really likes the fun things they do in those classes. "It's fun to learn about history," he adds.
"My favorite part would be when, in English, we spray painted the food trucks." Overall he is really enjoying his time at Seabury. He has made a lot of friends and he enjoys the environment of the school. "Seabury is very fun," he says.
Although he loves his classes, his favorite part about coming to Seabury is not one of faculty member Krista Barbour's fun new literature analysis projects, the new Friday dodgeball tournaments or even all of the sports opportunities that the school has to offer. Rather, it is the people he gets to meet and talk to. "[My favorite part] is getting to meet new people." And meet new people he does indeed. Since he came to Seabury, Brinson has become a kind and caring friend to many.
So if you want to get to know Brinson, fear not. You can join in on a game of soccer, a session of basketball or perhaps the current crowd favorite, a volleyball match. You can even just strike up a conversation. The most important thing to keep in mind is that he does indeed really love sports, but that is not the only thing he wants people to know about him:
"I want people to know that I really like sports and I'm a caring person"
About the Writer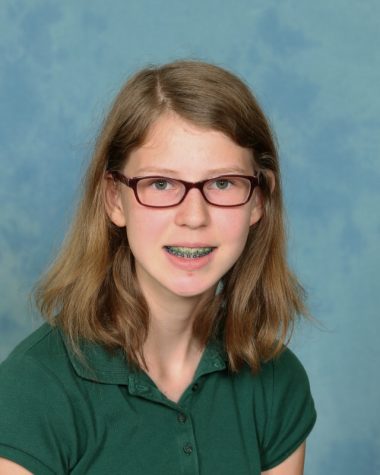 Katie Eckert, Copy
Katie has been a member of the copy staff since 2018. She likes to play piano, play volleyball, embroider and of course, write. She's always available...