Seabury Odyssey
Students flee Greece due to travel ban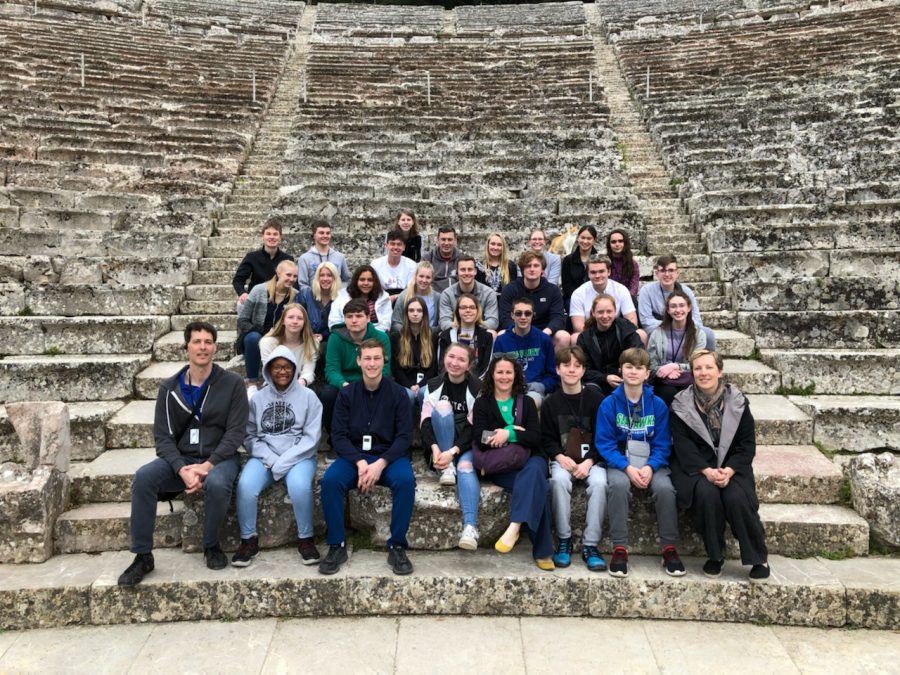 Marie Brockhoff
April 8, 2020
Flying to Greece on March 8th, Seabury students were chasing a Mamma Mia-esque adventure, or perhaps the places that inspired their favorite Greek myths. All seemed well when they landed in Athens after a long day of travelling. 
The trip began well with two days of sightseeing, but the group had to flee the country when President Trump banned flights from Europe, as it was uncertain at the time whether the ban extended to US citizens.  In the scramble to get home, some students flew independently, stopping in Paris, and a few flew straight to Kansas City, but most of the students stayed in London at the legendary Moxy hotel. With the Herculean efforts of Headmaster Don Schawang and faculty members Amy Meyers, Sonja Czarnecki, Michael Pulsinelli, as well as countless others, all the students returned home by March 15th. 
International travel alone is enough to produce anxiety, but when coronavirus chaos upended the jaunt overseas, students' strategies for solving problems and remaining calm became increasingly crucial. 
"I'm so scared I'm going to lose something, or that I'm going to get sick, or I'm going to injure myself . . . I brought my ankle brace and my knee brace just in case," said senior Addie Bay during the initial travel day to Greece. If Bay were to lose something, she would "Cry. Have a mental breakdown, then pull [herself] together and go buy another thing." 
Junior Paige Weigel-Helt was not concerned going into the trip. "The worst has happened to me already; I've lost my phone on a trip to DC," she said. "I try not to stress out if there's nothing I can do about it." Still, this year's trip added concerns about the coronavirus, which were only just entering the broader news stream at the time of departure. 
Eighth grader David Klimiuk was distinctly worried about the coronavirus going into the trip. "I'm really scared the plane will crash overseas, or someone on the trip will get coronavirus," he said before the trip. Due to the virus, students were especially vigilant in using hand sanitizer and disinfecting airplane seats with copious amounts of Lysol wipes. 
Chaos ensued when news of the European travel ban woke up the students at 5 a.m. on March 12th, putting students' coping strategies to the test. Klimiuk left logistics to the chaperones, focusing on what he could control. "I'm just trying to think about other things, like the trip ahead in London and the flight . . . That's what keeps me calm," said Klimiuk during a second interview at the Moxy hotel in London. 
"I brought some face masks that you see me wearing," said senior Ethan Hall while at the Moxy. Hall focused on hygiene. "I'm always trying to wash my hands and stuff." 
"I would try not to get super worked up about things I literally couldn't change," said Weigel-Helt on the way home from London. She worked to remain calm and go with the flow. "When you have to rework everything you're planning over and over again, it's just hard," she said. 
Sophomore Ivan Calderon's strategy amidst the chaos was to remain collected and prepared for anything. "If there's an issue . . . Just make sure everything is ready for you to book it. And if I have to, I would just pick up my checked luggage and run with it on my back." 
On March 15th, the Greece group departed for the US. At the Detroit Metro Airport, the Center for Disease Control (CDC) screened the students for coronavirus symptoms and instructed that they self-quarantine for 14 days. 
"I don't want to do self-quarantine, because that's going to be really hard since it's the last week of spring break . . . But I'm going to do it, so I don't risk the safety of others," said Klimiuk. Since the interview, social distancing and the statewide stay at home order have confined even non-travelers to their homes. 
Going home, many students still worried about coronavirus and its effects. Calderon was concerned "If I actually have corona. If any of us have corona . . . It's very socially separating because . . . it's extremely contagious," said Calderon. 
Despite the untimely end of the trip, the students experienced the beauty of Greece for two days. "It was just so pretty, it's something that you look up and see in a search engine, but seeing it in real life is just a whole other experience," said Weigel-Helt. 
"My favorite thing that we saw in Greece was ancient Corinth . . . I really liked the [views of] nature and the variety of flowers and just the beauty of it, the ruins as well, but it was a really nice place," said Calderon. 
Klimiuk also loved Corinth. "I really liked to see the ruins there . . . walking where someone walked thousands of years ago feels really cool," he said. 
Getting stuck in London also had a silver lining. Students visited the British Museum, which houses many artifacts from the Parthenon, allowing some of the students to see most of the Parthenon marbles all in a single trip.
"It is cool that we get to stop off and experience London, so we kind of get two for one, even though one got cut off short . . . I want to see Westminster Abbey and Big Ben and all the major tourist sites," said Hall.  
In the end, the trip really was an unexpected adventure. From feral cats in Greece to scrambling for plane tickets to navigating the London bus system, nothing was really surprising by the end of the trip. There are still countless unknowns, between distance learning and the spreading global pandemic, but with their problem-solving skills, the Greece group is prepared to take it in stride. As Klimiuk said, "That's the exciting part of traveling; you never know what's going to happen!"
3/9: The Greece trip begins, as participants fly out of Kansas City in two groups to reconvene in Athens after a grueling day of travel. They stay at Hotel Herodion.
3/10: The group begins their tour of the country with the Acropolis, Ancient Agora, Plaka and Acropolis Museum.
3/11: Students tour Ancient Corinth, the theatre of Epidaurus and an olive oil refinery, ending up in the seaside town of Nafplion at Hotel Rex.
3/12: President Trump announces a ban on travel from Europe. Chaperones book flights out of Greece. Two students fly home via Toronto, and nine more navigate the London bus system to stay at the Moxy hotel. 
3/13: Six students fly home independently via Paris. Dr. Schawang's group of 12 students arrive in London. 
3/14: London calling! Students tour major landmarks and the British Museum.
3/15: All students return safely home to Kansas City, having experienced the trip of a lifetime!