Song Birds
Seahawks dish on their musical talents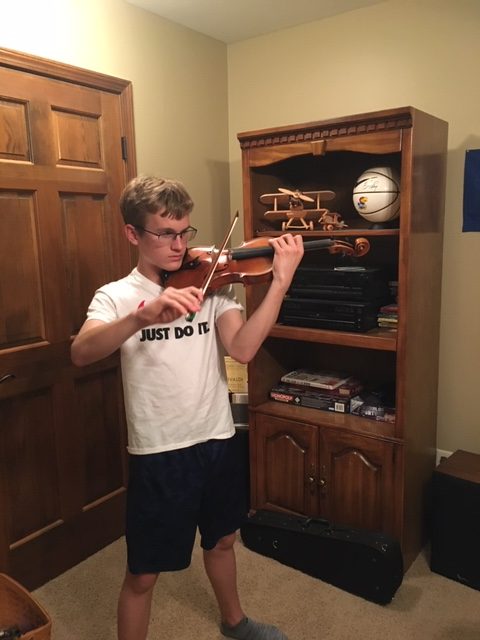 Catharine Richards
April 8, 2020
It is widely known how much practice and time goes into becoming a skilled sports player, but it is often overlooked how much dedication is needed from those who pursue musical extracurriculars. As COVID-19 cancels just about everything else, students continue to practice their musical skills indoors.
Freshman Noah Luke, who has been playing the violin for over nine years, says he tries to practice for at least an hour each day. "When I'm off of school I try to hit it two and a half, three hours because that's the only thing I do." Luke, like several other students from the Seabury community, participates in music competitions, hence his rigorous practice schedule.
"I compete with . . . pretty much all my instruments," says senior Ethan Hall. "I taught myself piano and guitar, and I've also done vocal, but I've been playing violin since I was three so I just kind of taught myself after that." In addition to playing several instruments and participating in musical competitions, in the last two years, Hall has started producing his own music. "Basically I write the lyrics and everything and I get sent beats from my producer," says Hall, "and I send it back and they mix it for me and then publish it on iTunes. As one can imagine this much focus on the musical field can take a lot of time. "It's pretty stressful because I do take other classes and I teach, so it's about five hours after Tuesday," Hall says, "so it's a lot of stress just being able to get it done, but the sense of accomplishment in knowing what I can achieve kind of helps that."
In addition to playing various musical instruments, singing also demands a lot of practice. Senior Emma Silvestri, who has been a part of various choirs and programs for many years, says she has been very fortunate to have several exciting opportunities in the world of choral music. Silvestri says, "I've had opportunities to sing with large group choirs, so this last summer I was in K-State's summer choral institute, which is forty singers selected from around the nation, so it was a super-selective program and I was really happy I made it in there." She continues adding that, "Two summers ago I went to Salzburg with the World Choral Fest and that was a huge, huge group, I want to say two hundred maybe more. We got to sing in the Salzburg cathedral and we premiered a new work and that was really cool." Silvestri plans to attend World Choral Fest again this summer in Norway.
"I started violin at age eight because I had been playing the piano since I was six and I did not like it," says seventh grader Amani Rojas-Bouhouch, "so I decided to play the violin. While Rojas-Bouhouch does not currently play competitively, she does do performances at school-related events and church.
"Around this time is [competition] season for choir but also solo singing . . .  I started that sophomore year," says Silvestri. Not only does practicing for competitions take a lot of time and preparation, but auditioning for programs and colleges is another added challenge. "I just finished my college audition process," says Silvestri,  "and it's another level of competition; even though I'm not getting scored or judged, it decides whether I get into the college and how much money I get for scholarships."
While it may be a while before musically-inclined students can perform again, they are nonetheless working tirelessly to perfect their impressive musical skills. When social-distancing requirements are lifted and Seabury musicians are released, the music world won't know what hit it.