The Power of Pink
Asher sits down with Chronicle post-procedure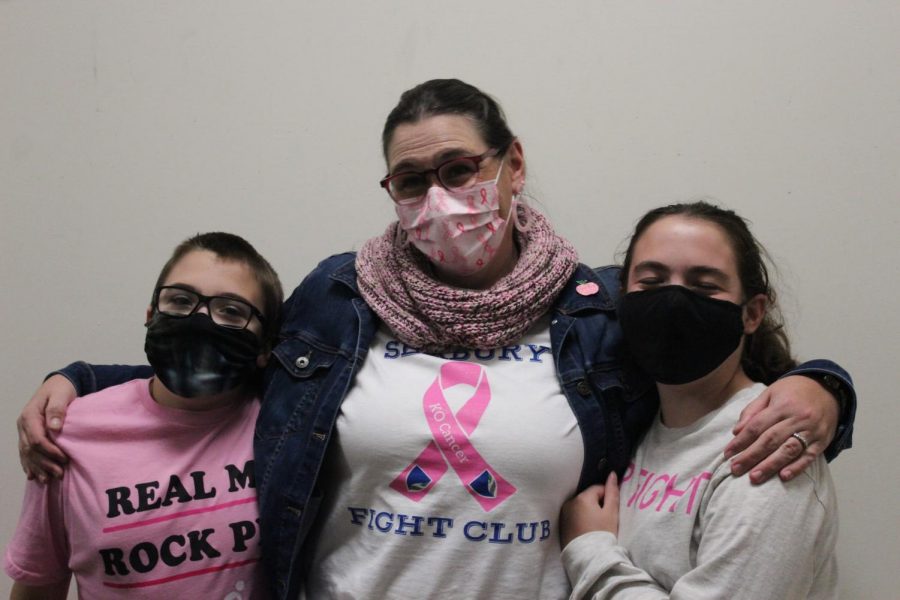 Matthew Petillo, Writer
November 5, 2020
Faculty Sara Asher is many things. Teacher. Mother. Wife. Cancer survivor. Unfortunately, cancer wasn't done with Asher: she learned in August that her cancer had returned. In late October, had surgery to remove the cancer, and agreed to sit down with the Chronicle to talk about her experience.
TC: Thank you for agreeing to do this! You've been at home, having to coordinate everything with people here. What has that been like, as well as seeing your kids come to school while you've been stuck at home?
SA: Well, I worked really, really hard before I went into surgery to get everything set up — so all my classes, all my resources for [Faculty Member Tashia Dare]. I worked hours and hours to get that all set up so all she had to do was "turn the key" and take care of everything. It's a little weird to see my kids go to school, sitting here in my lift chair. It's odd.
TC: What has it been like working with [Dare]?
SA: She's been fantastic! I trusted her fully to take my classes, and I knew she would do a great job. She asked a lot of questions that were really good. I worked so hard to get everything set in order, so that she would feel comfortable taking over my classes and teaching and keeping everything up.
TC: What has the support been like from the Seabury community?
SA: IT's been the most amazing support anyone could ever ask for. I think about the Seabury community every day, and it keeps my spirits up. When I was in the hospital, I kept thinking about [everyone], and I was never really that lonely, because I could feel everyone's love, in my heart, and it's been so great.
TC: How do you feel now that your procedure is now done?
SA: I'm very relieved. I'm still in a great deal of discomfort. I can't move very much, and I have to sleep in a chair, and it moves around a lot, so it's very uncomfortable. But, I received the results of my pathology [test], because they took out a lymph node as well to make sure that the cancer had not spread to my lymphatic system. The doctor said that my lymph node was clean, meaning it hadn't spread to other parts of my body . . . . because they caught it so quickly, so I'm really relieved about that.
TC: You had this once before, in 2013. Can you talk about some of the differences between that ordeal and this one?
SA: It's always scary when your doctor calls you and says "Oh, you have cancer." It was scary the first time because I didn't know what the diagnosis meant. That first time, I had quite a sizable mass of cancer. I did what they told me – I didn't know any different. This time, I think it was a little more scary because I knew what I was stepping into. I think that, sometimes, when you don't know what's going to happen, it's a certain amount of safety. There's something to be said about being a little ignorant about something – I didn't know what was going to happen last time, but I knew what was going to happen this time, and it was pretty serious this time.
TC: Can you explain what it's been like having Breast Cancer, while knowing that you're a wife, a mother, and a teacher, and having all these people who rely on you?
SA: It's stressful. At the beginning of this year, I was dealing with teaching [with] another method, and I'm trying to do almost everything new, and so it was very stressful, as the start of the year is. I'm also trying to help my kids transition into middle school, which is stressful for them, and [so] when I found out I had cancer, I was like, "Well, that's great", during a pandemic. So, It's been very stressful and a lot to deal with, but I needed to keep my vision focused and not think about the cancer, because there wasn't anything I could do about that. All I could do was do the treatment that the doctors told me. But, I could control things at school, like how I was handling things in the classroom and getting my work done.
TC: Do you have any words of advice for people back here at Seabury?
SA: I say that if we all work together, and we take care of each other, and we wear our masks, and we stay distanced from each other, that this isn't going to last forever. The longer we can keep this up, the shorter time that we will be able to be together again, like before. If I can have cancer during this, and come out on the other side, we can do this mask thing.