Spotlight: Haley Bajorek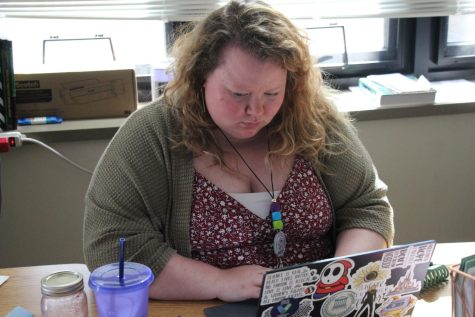 Faculty member Haley Bajorek is kicking off the year by assuming the position of World History and World Religions teacher. However, she has been a debate coach at Seabury for quite some time. "Those are like my kids . . . They will always have me in their corner," she says.
Outside of school, Bajorek enjoys a couple of hobbies. "I like cooking. I cook all the time . . . My backup plan if my life just goes totally sideways is to open a restaurant called 'Pizza Brunch,'" she says. However, cooking isn't Bajorek's only talent. "I used to be pretty fluent in Spanish. I'm kinda rusty . . . so I was trying to freshen up on Duolingo". 
Although she makes time for these passions, learning will always be a significant part of Bajorek's life. "I wrote my master's thesis on the history of Black museums in the United States," she says. "All of my educational background is in like anthropology and Black history and feminist history."
There is no way anyone can achieve all of that in a regular day. Still, Bajorek shares her secret: "I'll roll into school with Backstreet Boys playing super loud." Bajorek may be "a die-hard Backstreet Boys fan," but her one true love can only be Paramore. She says, "My favorite band is Paramore. I have loved Paramore since middle school . . . I'm obsessed."
Bajorek talks a lot about her love of learning. A faculty member at her Alma Mater, the University of Kansas, whom she talks about with so much love, is her college advisor, Peter Ukpokodu. She says, "He's one of the only professors that I had at KU that consistently, from the day I met him, treated me like a peer."
The Seabury community is excited to have Bajorek around the school full-time now and hopes that she will continue to share her love for learning with her students.